Latest Articles
How to remove Remington Express safety
Hello,

Sorry to drag up an old post, specially from a new user. I got into the shooting game a month ago but have stripped springers before.

Has anyone encountered the new system for the safety grub screw?

Seems the grub screw is gone and replaced by a pin, to make things horrible that pin has another pin keeping it in from the rear of the trigger assembly. It looks like a preventive measure to keep tinkerers out, god knows how a service shop would manage.

I have a mill in the shop a ...
2 Stage Trigger Mod
Hi all,

I've done the two stage trigger mod on my CP1M, but find the front grubscrew keeps slipping down, reducing the effectiveness of the mod.

What locktite type product do people use to hold these in place? The cooking bolt works loose too, so this would also benefit from similar treatment.
Thunderjet
Bought one of these secondhand as I fancied a try of a gas ram.

Pleased with the look and action of it, but have two problems.

This is sold as a full power rifle but is way over limit in the us, i thought it prudent to chrono it. It is only at 7Fpe.

It takes a bit of strength to cock so I assume the ram is ok, anybody have any experience of sorting/stripping/fixing these?

I believe the basic components of these come from another SMK model.

Second problem is that the front lens of ...
Arrived today
I know this is an old thread, but I am new here and just looking through posts on the CP1.

I think it is not supposed to pierce the capsule when you screw the cap on, but pierces when you first fire it.

On mine I screw the cap down finger tight, don't put anything through the hole for leverage, and fire a blank shot that pierces the capsule.

Bob
CP1 short Hammer Spring prob
Made n fitted ptfe TP seal and it increased power by 0.5flb, thought it was rubbish with O-Rings as they just touched, so to reduce power further down now, I cut Hammer Spring (lighter than std - 0.8mm cs) down to 48mm long, some 18mm shorter than for it to just touch v/stem uncompressed, but when Chrono-ing I found the odd shot with 30+ fps, found it was Spring guide dropping out of rear cap recess and thus compressing spring a bit more. Here's how I fettled it......
[url=http://gallery.myff.o ...
My new CP1-M
Artemis CP1-M from Krale.
With a Moderator Adaptor from JS RAMSBOTTOM and a Moderator SWS from sportwaffen-schneider
The scope is a Walther 2x20 for guns.
For the moment I only change the trigger spring for a lighter.
The total weigth is 2.43lb and it's a very nice gun.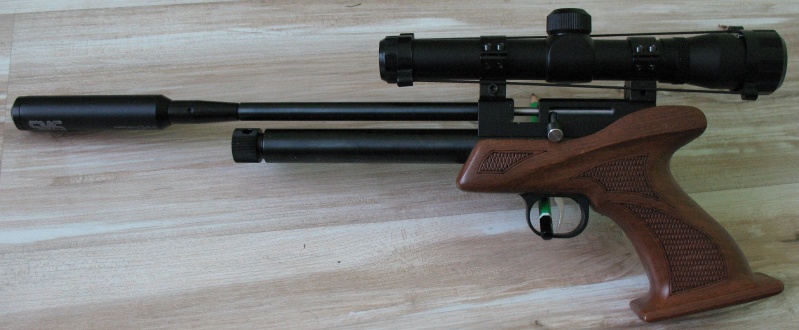 Express xp silencer removal at last.
The time had come to remove that God awful plastic silencer and shorten the barrel in readiness for a new and proper silencer.
I had asked in the past if there was a way to get the thing off and the general opinion was to heat it to soften any bond that is gluing it in , then a twist and pull should do it.    Tried that... no chance, stuck like **** to a blanket!
 Time for a look and below are my findings.
[url=http://gallery.myff.org/gallery/1979286/20160505_145922.jpg][img:002c60768b]http: ...
Remington brass Trigger Guard
Venoman ( Lyn)has been designing brass bits for the Remington Express and I'm pleased to say that I have just received a brass trigger guard from him.

What can I say!    A perfect fit and a superb finish to the guard. It really matches Lyn's set back trigger . He even thought of a slot to give access to the trigger blade adjustment screws.  A couple of pics to compare with the placcy offering.  
[url=http://gallery.myff.org/gallery/1977133/20160426_135830_001_resized.jpg][img:acef65c263]http ...
finally started on my cp1
bit of a change to my original plans


ive fitted a shortened king rat rear bottle adapter made a longer transfer tube and made a new sealed tube plug which the transfer tube feeds
the valve I removed the piercer and machined an o ring groove to seal to the tube but have left it std internally but have added additional fixings
the f ...
CP1 Grips
I see different style grips on the different manufacturers CP1s.

On mine which is a SMK model they seem of a decent quality.

Which makes me feel a tad better as I got mine from the UK and paid top dollar.

Oh and big thanks to Dave for me shroud too