Latest Articles
Got my new CP1
Yay I got my new CP1 from Poland today. Really pleased with it.
I got a little nervous when realised there was a slight difference between the Kandar and the SMK but am pleased now.

It is quite loud though so a shusher on its way. Will get some spring guide just for pimping sake.

As a final bonus the wife really likes it too so very pleased.

I may ad a scope if some sort but undecided as yet. Well that's not true! I'm sur I'll get one, whether it stays on all the time or not is ano ...
Spring guide
PM sent, are these still available?

Thanks
C
Remington express.22
Hi all , been looking at getting a Remington express in .22 , mainly for a back yard plinker , already got a hw99 in .177 this is the reason for a .22 , are these any good or would it be worth increasing my budget and getting something like a hw30 , any suggestions welcome cheers
Wandering Poi
Barrel lock up is snug as is the pivot. All stock screws are good and tight. The gun will group very nicely for several shots with jsb 8.4 then start flinging random fliers. It will group well with other quality pellets then the same thing. I have tried soft bedding and no change. I'm open to any suggestions and at this point considering swapping out the barrel for a Ruger black hawk barrel. The scope has been swapped out so that is not the problem. The ...
cp1 scope recomendations
what scopes you all using....dont want anything too expensive...
was thinking about one of those red dot type...are they any good...
also ive ordered the cp1m so dont want anything that gets in the way of loading...
cheers all
Bit Dirty !!!
Well i dragged the 501 out of the Cupboard and fitted the 13ci Air tank, spent some time TRYING to zero her and Gave up.18 yds and the smallest group i could acheive just fit under a 10p piece :(
Dropped the Barrel and checked the crown and lead in both looked good but gave them some time with 1500 wet and dry, still crap so looked at cleaning the Barrel and the pic below was the result. Also put her over the F1 and Ooops ! ( wondered why it was kicking like a springer ! ) Will have to try the ...
My Custom CP1's
simon5492 wrote:
just to show what can be done
.177 Multi with  Carbon silencer shroud, polished internals , 400 gr trigger :
[img]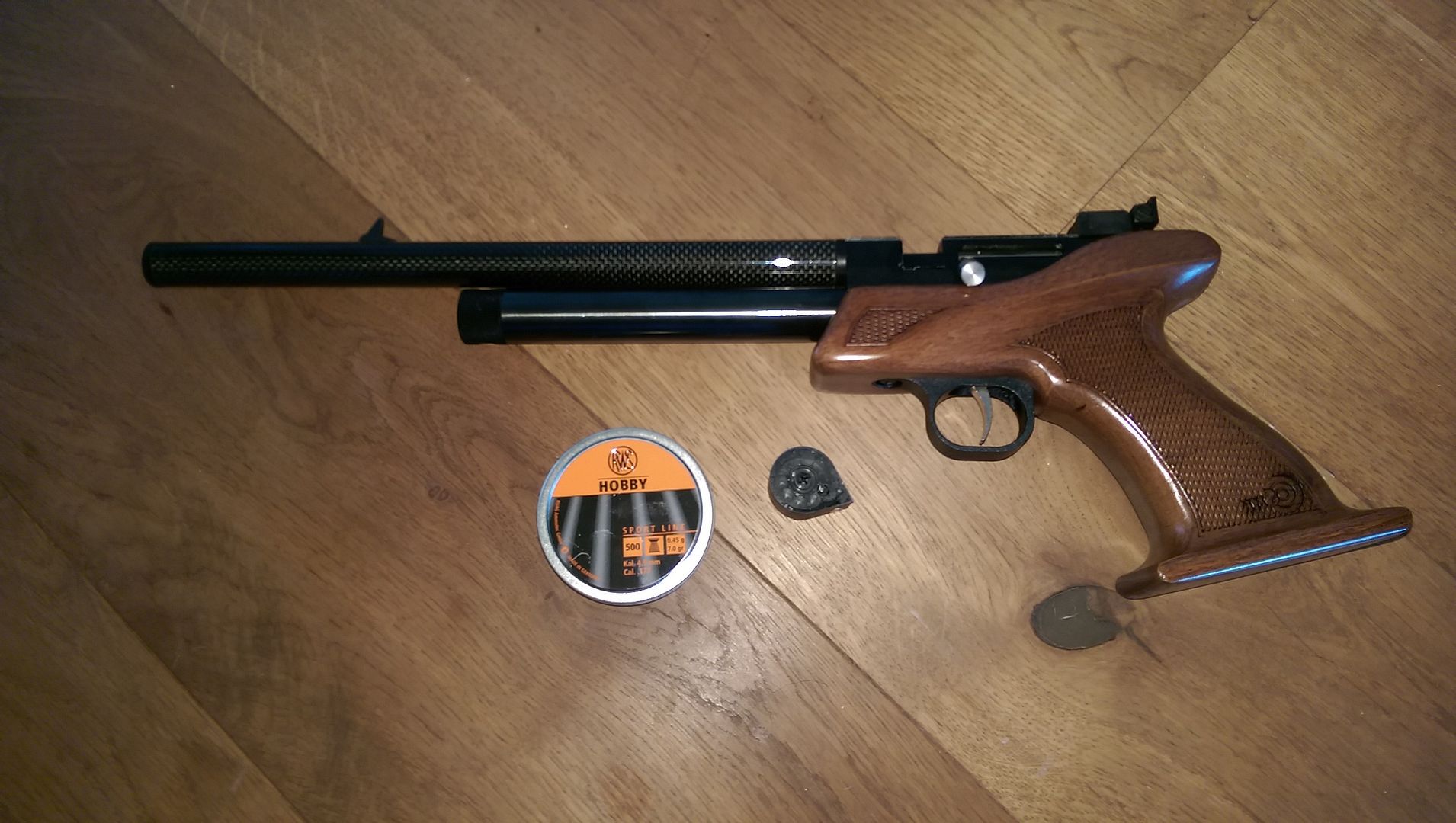 .22 Single Shot , Short shroud + AGS 2x20 scope , Custom Grip:

[URL=http://s77.photobucket.com/user/Simon_De_Brett/media ...
Cp1m in .22
just putting my cp1 through its paces im not overly chuffed with the magazine to be fair it seems really clunky to use when reloading any pointers out there guys
CP1 Grips
for those with plain grips i can engrave them at a reasonable cost with my laser heres a couple of examples of my work

SPA's CP1 Arrived
The CP1 .177 is in stock if you register online at http://airgun.silesia-shop.pl/en/shop.html